30 Days Book Meme for December 2012
This book Meme will be on:
The Indie Exchange Group - https://www.facebook.com/groups/indieexchange/
This was a little
something
I am going to try to do, the 30 Days of Christmas Meme. It's a meme where you answer a question each day of December! The questions can be found at The Indie Exchange. I probably won't be able to do a post everyday, but I am going to try!! I making it a 30 Days Challenge for myself!
Enjoy!
~~~~~
Day 16
–
Favorite Female Character
My Top Five
Now, picking just one favorite female character is hard! So, to make it more fun and a bit easier I am going to do my top favorite five female characters! My top five are girls who don't need a man to protect them, they kick butt all on their own.
1.
My number one favorite girl knows how to kick some ass. Her name is Alex Andros. She is the from the
Covenant
series by Jennifer L. Armentrout. And I just love this series. With her fighting spirit and how she never gives up no matter how dire the situation is, she is an amazing female character.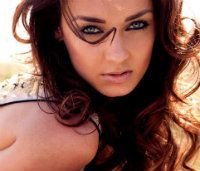 2.
Katy Swartz is my number two choice. She is the girl who never backs down. She is from one of my all time favorite series, The Lux books by Jennifer L. Armentrout. JLA just knows how to create wonderful, strong and fierce females! Katy is no different. She does her best to do right, and no matter the situation, she fights.
3. My number three is from a book called Being Jamie Baker by Kelly Oram. Jamie Baker is just a female character who I just loved! She is just a bit different then her peers, well, that's a bit of an understatement. This girl has powers, like super powers. Jamie has to keep them a secret, so she becomes an 'ice queen' to keep others away. But she is a great character, one I just love. She tough and strong. Fighting to protect her family and the ones she holds close to her heart.
4.
My number four goes by the name of Kaylee Cavanaugh. She's a
bean sidhe,
or a banshee, from a series I can't get enough of,
Soul Screamers
by Rachel Vincent. With everything Kaylee has gone through, it just amazes me how strong she is. She will literally go to the Netherworld and back for people she cares about, hell, she'll do it for anybody because it's the right thing to do. She will protect her loved ones even if it costs her everything.
5. My number five is Nara Collins from The Brightest Kind of Darkness series by P.T. Michelle. Why Nara? Well, she can see one day into her future every night. I know that I couldn't handle that, and she does her best not to interfere, but when others are in danger she'll do what she can to protect them. And like all of my other girls I chose, they don't need a man to fight for them. Nara can take care of herself.
Day 17
– Favorite Quote from your Favorite Book
Now, I love quotes. I mean really, really love quotes.... so one quote! Hope you guys love the one I chose! *giggles* This one is just beautiful, it really is. It really does speak a lot, it holds a lot of meaning.
"I've always found that the most beautiful people, truly beautiful inside and out, are the ones who are quietly unaware of their effect." His eyes searched mine intently, and for a moment we stood there toe to toe. "The ones who throw their beauty around, waste what they have. Their beauty is only passing. It's just a shell hiding nothing but shadows and emptiness."
-Jennifer L. Armentrout,
Obsidian
Day 18
– A book that disappointed you
I just couldn't get into Beautiful Creatures, I really wanted to, but I just couldn't. I was really looking forward to it, to reading it, however I realized that this isn't a book for me. Reading from the male's POV is nice and different. The story, overall, sounded amazing, but this just isn't a series for me.
Day 19
– Favorite book turned into a movie
I really loved this book, and the movie amazed me. Yes, it wasn't perfect, no book-to-movie is. But I feel they did a good job. When I was watching the movie, I just was amazed! I got lost in the movie just like I did the book. I did notice some things they didn't mention in the movie, but again that is understandable. But the movie was really good, and I enjoyed it.
~~~~~

30 Day Book Meme: