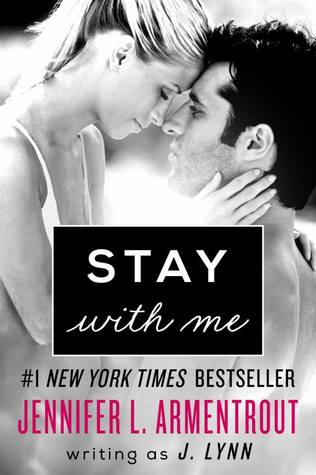 Title: Stay with Me
Series: Wait for You, #3
Author: J. Lynn/Jennifer L. Armentrout
Category: Contemporary Romance
Genre: New Adult
Rating: 5 stars out of 5
At 21, Calla hasn't done a lot of things. She's never been kissed, never seen the ocean, never gone to an amusement park. But growing up, she witnessed some things no child ever should. She still carries the physical and emotional scars of living with a strung-out mother, Mona—secrets she keeps from everyone, including her close circle of college friends.





But the safe cocoon Calla has carefully built is shattered when she discovers her mom has stolen her college money and run up a huge credit card debt in her name. Now, Calla has to go back to the small town she thought she'd left behind and clean up her mom's mess again. Of course, when she arrives at her mother's bar, Mona is nowhere to be found. Instead, six feet of hotness named Jackson James is pouring drinks and keeping the place humming.





Sexy and intense, Jax is in Calla's business from the moment they meet, giving her a job and helping her search for Mona. And the way he looks at her makes it clear he wants to get horizontal . . . and maybe something more. Before Calla can let him get close, though, she's got to deal with the pain of the past—and some very bad guys out to mess her up if she doesn't give them her mom.




My Review
So, lately I've been in a bit of a reading rut. But I've come to realize no matter what reading funk I am in, a JLA books always pulls me out of it or captures my attention! Though it did take me a bit longer to read the book than normal, I enjoyed Stay with Me so much! This series is one I just love, and I think that this one is probably my favorite or really close to being my favorite out of the entire series.
"Stick with me, babe, and I'll change your life."
Of course I loved this world that Jennifer has created. It feels real and though it has been used a bit (the college life) this one was different from the others and fresh in quite a few perspectives. Her writing style is, as always, witty, humorous, and very captivating. Her detail to not only her characters but her world is real and fascinating. And her characters are always so unique, each one truly real.
Calla was such a strong character; one I felt really came through in the story. She has quite a dark past, and visible scars of that past, but what I loved about her was her strength to move forward. Though she is a bit stubborn, and that did come through quite a bit, she didn't really come off as annoying or incompetent, stupid or irritating. I loved seeing and watching her develop, watching her finally open up and be honest with herself and others. That was very strong of her and brave.
Then we have Jackson James, Jax for short. Of course I fall for this guy! I mean he is a creation by JLA so you cannot not fall in love with him. Dark, alluring and confident, I instantly was drawn to him. What I loved so much was that Jax is a strong, real, and determined character. But, like Calla, Jax also had a few scares of his past. Watching him reveal them and open up to Calla was another aspect I so enjoyed. I loved how he pushed Calla, how he challenged her in ways she needed to be pushed and challenged.
"You with me?"

Remembering him saying that before, I nodded and whispered, "Yes."

He kissed me again. "Then stay with me."
The story developed at a pace I very much enjoyed. And though there were a few things I did see coming, I loved how they were presented and how they still shocked me. The flow and movement of the story also felt natural, the development between Calla and Jax real. Each developed and growth throughout the story fascinating and it was so much fun watching their transitions.
The book did have its intense moments, it did break my heart at parts, and did leave me a big ball of emotions at times as well. But I enjoyed that so much! All in all, another wonderful story in the Wait for You series.