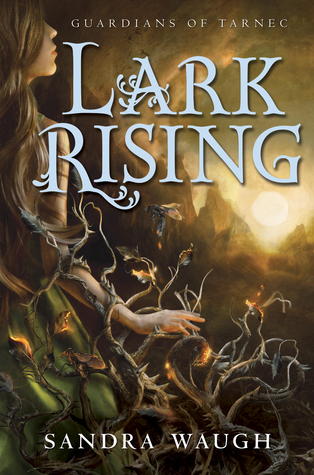 Title: Lark Rising
Series: Guardians of Tarnec #1
Author: Sandra Waugh
Category: High Fantasy/Fantasy/ Romance
Genre: Young Adult
Rating: 4 stars out of 5
Full of romance and nature magic, this debut fantasy is perfect for fans of Shannon Hale, Juliet Marillier, and Kristin Cashore.



Lark has foreseen two things—she will fall for a young man with sage green eyes,and he will kill her.





Sixteen-year-old Lark Carew is happiest close to home, tending her garden and gathering herbs for medicines. But when her Sight warns her that monsters called Troths will soon invade her village, Lark is summoned on a journey to seek help from the legendary Riders of Tarnec. Little does she suspect that one of the Riders, Gharain, is the very man who has haunted her visions. Or that the people of Tarnec have called her there for another reason: Lark is the Guardian of Life, the first of four Guardians who must awaken their powers to recover four stolen amulets. Together, the amulets—Life, Death, Dark, and Light—keep the world in Balance. To take back the Life amulet, Lark will have to discover her true inner strength and give in to a love that she swears will be her downfall.




My Review
High Fantasy is one of my absolute favorite genres. Therefore when I saw Lark Rising, I knew I had to pick this one up. It had all the elements I just can't get enough of. Adventure, romance, magic, a treacherous journey that challenges characters, a wonderful and diverse cast of characters both human and not. Lark Rising definitely had all of that more.
First, I must talk about Waugh's writing style. It is simply beautiful. It flowed and ebbed in a seamless way. And though I did find it beautiful, I always found it a bit – I can't think of any other word but hard, so I'm going with that – hard to get used to. It is hard to explain, though beautiful, it took a while to get used to. It, to me, reflected more of a classical writing style. Which I enjoyed! Her detail was, just as her writing, beautiful. Simple, but enough to allow her readers to paint the world she was writing about.
I enjoyed the characters. Lark was a very intriguing one and one that really grew throughout the story. At first she's a timid thing, mostly because of her unique powers that keep her away from seeking crowds of people. But when she is called to accomplish a task, she puts that timid behavior behind her and steps forward despite the danger. And what danger she does get into! Her world really takes a turn when she leaves her simple life; she discovers her role in the world is a lot bigger than she could imagine. I enjoyed Lark. She is strong, and that came through in end. She is also smart and quick to think. Though at times I did what to give a little shake, I felt she was a good character.
Gharain comes into Larks world in not the best of ways, but what I enjoyed about him was how he was very much human. He has made a few mistakes, ones that really changed him, his behavior and his outlook. Made him a bit harden and unable to forgive himself. His role is intriguing and I enjoyed watching him overcome the mistake he made, grow, develop, and learn how to forgive himself. Though he wasn't the nicest at first, I did enjoy his character from the beginning because you can tell there was more to him.
The romance in the book did build nicely. It was beautiful and sweet. And I really enjoyed that; however, I did feel that it escalated quite fast. The book does take place in the span of just a week or so, but the relationship between Lark and Gharian just felt a bit rushed to me. However, I still enjoyed it despite that! It was still a sweet romance that I really loved.
The pacing, as I said, is a bit fast. At some points I did feel it was rushed. But that didn't turn me away from the story. I did believe this book was going to be a lot different than it was, which isn't a bad thing, but it was something I wasn't expected. This book was Lark's tale, but the next book will not be. That throw me off a bit, and made me realize why things happened so fast and a bit rushed in this one. The challenges the characters faced did test them, but I felt they were solved too easily and overcome too fast at times.
All in all, I'm so very happy that I picked up Lark Rising. It was beautifully written and very captivating. Waugh definitely created a masterpiece; a worthy first novel. The world she created was striking, intricate, and so fantastic. Her characters were alive and pure. Once I picked the book up, I couldn't put it down. And I know I will be reading the next book.