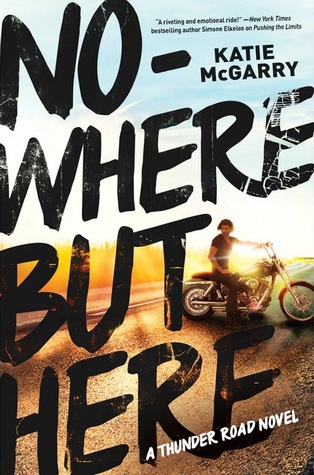 Title: Nowhere But Here
Series: Thunder Road, #1
Author: Kati McGarry
Category: Contemporary Romance
Genre: Young Adult
Rating: 4 stars out of 5
An unforgettable new series from acclaimed author Katie McGarry about taking risks, opening your heart and ending up in a place you never imagined possible.



Seventeen-year-old Emily likes her life the way it is: doting parents, good friends, good school in a safe neighborhood. Sure, she's curious about her biological father—the one who chose life in a motorcycle club, the Reign of Terror, over being a parent—but that doesn't mean she wants to be a part of his world. But when a reluctant visit turns to an extended summer vacation among relatives she never knew she had, one thing becomes clear: nothing is what it seems. Not the club, not her secret-keeping father and not Oz, a guy with suck-me-in blue eyes who can help her understand them both.





Oz wants one thing: to join the Reign of Terror. They're the good guys. They protect people. They're…family. And while Emily—the gorgeous and sheltered daughter of the club's most respected member—is in town, he's gonna prove it to her. So when her father asks him to keep her safe from a rival club with a score to settle, Oz knows it's his shot at his dream. What he doesn't count on is that Emily just might turn that dream upside down.





No one wants them to be together. But sometimes the right person is the one you least expect, and the road you fear the most is the one that leads you home.




Katie McGarry really is an amazing writer. Her writing flows so beautifully and she really does capture her characters and their situations. This story was powerful, emotional, sweet, and fun to get lost in.
"I will her to look away, but she doesn't and I'm secretly proud the girl won't back down. I hate this connection. I crave this connection. She's continually messing with my head."
Emily and Oz really are two different characters. But I enjoyed that dynamite between them. Emily grew up in a very safe world, filled with comforts, and she reflects that. Oz grew up in a more wild and crazy world, one that is not conventional at all. Though Emily's attitude did get on my nerves at first, I enjoyed her more straight forward personality. She might, at first, seem like a timid character, but when she is thrown into Oz's world she really was able to adjust, find herself, and show she's got balls. Emily was able to finally find her place and I liked that she was able to, that she opened herself up to Oz's world (though it was hard for her).
Oz was such a wonderful character to get to know. He grew up in a world of motorcycles and clubs. A world complete different from the usual normal. I loved that he didn't really like Emily when she first showed up, that he challenged her view point on life, questioned her, and was able to help her change. God, he was swoony. There I said it. Oz has always wanted to join the club, to be a member, and to help those within the club. But like how he challenged Emily, Emily in a way did challenge him to see more than the club. Oz definitely came off as an individual a lot older than he appears. Mature and so very caring.
The book is filled with so many fascinating characters, some annoying and some I really can't wait to learn more about. Though some came off as annoying, I still couldn't hate them. The romance between Emily and Oz was a slow and steady build. I loved the turnaround between them. How they couldn't really stand each other, or take the time to understand each other's world. But they slowly started unraveling each other, becoming closer, and slowly falling in love. It was a sweet romance, intense with the situations they found themselves in.
My heart bursts as the words tumble out. "I'm falling for you."
The books pacing was to my enjoyment. It did seem to have a slow build, but when things started to heat up it was very nice. McGarry also has a great way, for me personally, capturing her characters' personalities quite well. I could understand both Emily and Oz, why they did the things they did and how their minds worked. I also didn't really see that one twist coming; it definitely took me by surprise. The character growth was really amazing as well.
All in all, Nowhere But Here was such a good read and I absolutely loved every second I was lost in Oz's and Emily's world. I couldn't get enough of them.