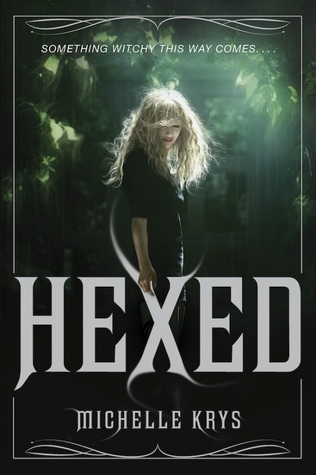 Title: Hexed
Series: The Witch Hunter, #1
Author: Michelle Krys
Category: Fantasy/Paranormal
Genre: Young Adult
Rating: DNF
If high school is all about social status, Indigo Blackwood has it made. Sure, her quirky mom owns an occult shop, and a nerd just won't stop trying to be her friend, but Indie is a popular cheerleader with a football-star boyfriend and a social circle powerful enough to ruin everyone at school. Who wouldn't want to be her?





Then a guy dies right before her eyes. And the dusty old family Bible her mom is freakishly possessive of is stolen. But it's when a frustratingly sexy stranger named Bishop enters Indie's world that she learns her destiny involves a lot more than pom-poms and parties. If she doesn't get the Bible back, every witch on the planet will die. And that's seriously bad news for Indie, because according to Bishop, she's a witch too.





Suddenly forced into a centuries-old war between witches and sorcerers, Indie's about to uncover the many dark truths about her life—and a future unlike any she ever imagined on top of the cheer pyramid.




My Review
Hexed was a book I was really anticipating when it was first released. It did take me a while to pick it up, but when I finally did I was so happy to finally be able to get lost in that world. However it wasn't what I was expecting. And I did try to like it, but no matter what I just couldn't.
I love books about new age, witches, the paranormal, and so I was expecting a really witchy book. This one sounded like a read I would get all of those factors. And, don't get me wrong, I'm sure it had those elements, but I couldn't get past the first few chapters. Maybe it was the writing style that I just couldn't get into. It felt a bit too stiff and the flow of the storyline unnatural. I couldn't feel any depth to it or unleashing of the character's feelings. I couldn't connect with the main character or understand her though process at all.
I also did not like her that much to be honest. Yes, the author does explain why she wants her social statues within the constructs of high school, but even with the explanation, I didn't understand it. And her so called best friend irritated me so much; I honestly hated her and hated that the main character put up with her crap. Some of the reactions by the main character also didn't feel natural. Only happening for the sake of advancing the storyline. Quite a few times I found the interactions and movements of the characters to feel too stiff and unnatural as well.
The pacing was a bit too rushed for my liking and I found myself wanting it to not move so fast. I wanted more detail and to be able to understand the character and her motivations.
I wanted to enjoy this one. It seemed like a book I would really get into. And I tried twice--twice --to like it, but I just couldn't. There were just so many factors I couldn't like or enjoy.
I really did want to like this one, but it wasn't for me, personally.