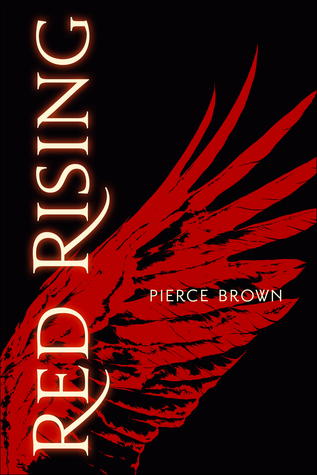 Title: Red Rising
Series:
Red Rising, #1
Author: Pierce Brown
Category: Sci-Fi/ Fantasy
Genre: Young Adult
Rating: 3.5 stars out of 5
The Earth is dying. Darrow is a Red, a miner in the interior of Mars. His mission is to extract enough precious elements to one day tame the surface of the planet and allow humans to live on it. The Reds are humanity's last hope.



Or so it appears, until the day Darrow discovers it's all a lie. That Mars has been habitable - and inhabited - for generations, by a class of people calling themselves the Golds. A class of people who look down on Darrow and his fellows as slave labour, to be exploited and worked to death without a second thought.

Until the day that Darrow, with the help of a mysterious group of rebels, disguises himself as a Gold and infiltrates their command school, intent on taking down his oppressors from the inside. But the command school is a battlefield - and Darrow isn't the only student with an agenda.


My Review
Red Rising
was beyond a great read. I loved being lost in the world Brown created; ingenious, imaginative, and downright vivid in storytelling and development of both the world and the characters.
"I am the Reaper and death is my shadow."
The world is by far my favorite aspect of the whole book. The depth that Brown went into, into the world of Mars, the culture, the entirety of it drew me in and left me wanting to know more about it. The how, why, when etc. The book does have a bit of reminisces of The Hunger Games feel. But the more ancient Greek themes definitely made it a bit more unique.
Each character was very interesting and held such great personality; bad and good. Darrow was such a vivid young man. His world is harsh. So getting to see his world through his eyes, really allowed me to empathize with his situation. I loved that he has never had it easy. His world isn't kind. But when he loses, he continues to step up. And he doesn't step up because he really wants to, not in the sense of most heroes. He steps up for those he loves and those he has lost.
His growth was both deep and very much realistic. Darrow undergoes such a transformation throughout the book. From someone who doesn't mind keeping his head down, to someone fighting for his life and the freedom his people. His determination and drive was really admirable.
The secondary characters really made the book as well. As I mentioned, each character held such depth and individual personality. I came to really love some on them. I found myself laughing out loud quite a lot by their actions and personalities.
I loved the fast paced reading and movement of the story. The detail brought this life on Mars straight out of the pages. I fell hard for Darrow's struggles and his quest. And I fell in love with so many secondary characters, one which I really hated losing.
The only thing I struggled with was the action scenes. The buildup was so grand, intense, had my heart beating and my body ready for the climax. However, I felt when it did hit that peak, it was disappointing, rushed, and very anti-climactic. The build up so much better than the actual turning point.
"I was forged in the bowels of this hard world. Sharpened by hate. Strengthened by love."
I did love this story so much. Loved the world and Brown's brilliant writing style. I cannot wait to jump into the next book and see what Darrow has up his sleeves next.