Romancing the Nerd
Dan Garrett has become exactly what he hates—popular. Until recently, he was just another live-action role-playing (LARP) geek on the lowest run of the social ladder. Cue a massive growth spurt and an uncanny skill at taking three-point shots in basketball and voila...Mr. Popular. It's definitely weird.





And the biggest drawback? Going from high school zero to basketball hero cost Dan the secret girl-of-his-dorky dreams.





A tuba-playing nerd with an eclectic fashion sense, Zelda Potts's "Coolness" stat is about minus forty-two. Dan turning his back on her and the rest of nerd-dom was brutal enough, but when he humiliates her at school, Zelda decides it's time for a little revenge—dork style. Nevermind that she used to have a crush on him. Nevermind that her plan could backfire big time.





It's time to roll the dice...and hope like freakin' hell she doesn't lose her heart in the process.



Also by Leah Rae Miller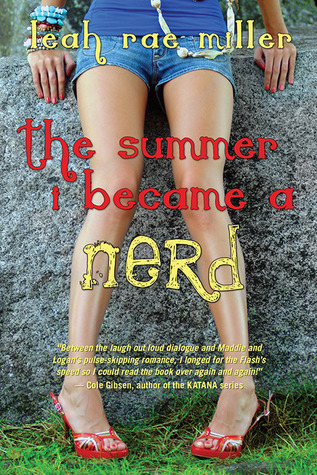 The Summer I Became a Nerd
On the outside, seventeen-year-old Madelyne Summers looks like your typical blond cheerleader—perky, popular, and dating the star quarterback. But inside, Maddie spends more time agonizing over what will happen in the next issue of her favorite comic book than planning pep rallies with her squad. That she's a nerd hiding in a popular girl's body isn't just unknown, it's anti-known. And she needs to keep it that way.




Summer is the only time Maddie lets her real self out to play, but when she slips up and the adorkable guy behind the local comic shop's counter uncovers her secret, she's busted. Before she can shake a pom-pom, Maddie's whisked into Logan's world of comic conventions, live-action role-playing, and first-person-shooter video games. And she loves it. But the more she denies who she really is, the deeper her lies become…and the more she risks losing Logan forever.



About the Author:
Born and raised in northern Louisiana, Leah Rae Miller still lives there on a windy hill with her husband and kids. She loves comic books, lava lamps, fuzzy socks, and Cherry Coke. She spends most of her days reading things she likes and writing things she hopes other people will like. Her YA novel, THE SUMMER I BECAME A NERD, released Summer 2013 from Entangled Teen.