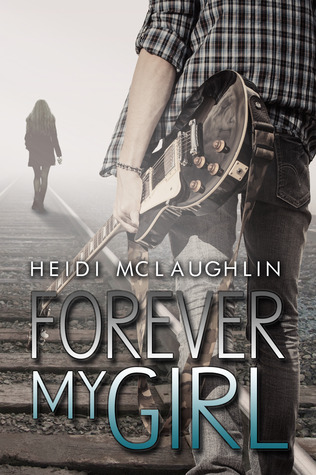 Title: Forever My Girl
Series: The Beaumont Series, #1
Author: Heidi McLaughlin
Category: Contemporary Romance
Genre: New Adult
Rating: 2 stars out of 5
I was never supposed to be a rock star. I had my life all planned out for me. Play football in college. Go to the NFL. Marry my high school sweetheart and live happily ever after.





I broke both our hearts that day when I told her I was leaving. I was young. I made the right decision for me, but the wrong decision for us. I've poured my soul into my music, but I've never forgotten her. Her smell, her smile.





And now I'm going back.





After ten years.





I hope I can explain that after all this time.





I still want her to be my forever girl.




Okay, so I've been in a bit of a huge reading slump lately. Mostly due to the move and how crazy life is at the moment; however, I have been craving a good romance read. When I came across Forever My Girl, I thought it would be a romance that would pinch my heart, leave me a bit breathless, and maybe even cause me to shed a few tears. Though I typically avoid books about rock stars, they just never were my thing, I just really liked the sound of this one so I picked it up.
And oh how I wish I could have enjoyed this one as much as I was hoping. Now, don't get me wrong, it was still a sweet story, but for me, personally, it wasn't my style of writing nor storytelling. The way story unfolded was a bit rushed and a bit chaotic. So much happens that I felt that the author didn't have time to handle it all in one book. I felt some things didn't get resolved or handled properly. The romance, though nicely done, was also rushed and it just felt so lacking for me! The story sounded like a great angsty read (I do love my angst every now and then), but it felt so lackluster. I honestly just wanted more from the book, the characters, and the storyline.
Josie, though, was an inspiring character and I did feel that McLaughlin did create a wonderfully strong female lead. Having to go what she went through was pretty amazing and I can see how she had to step up, grow, and become who she was during the story. Liam is definitely the bad boy, rock band type of guy. However, he is sweet and very kind. I did understand why he did what he did ten years ago. But how it happened, and though I understood why, still made me a bit mad. I did feel the spark between them and the deep history they share. But, again, it felt like that their romance was too rushed, the emotional aspect never truly approached. Now did they fully discuss their emotions of the present (their past romance, you can see and understand, but ten years have passed. Their present romance should have been more addressed).
And though I didn't personally enjoy this one, I do encourage other readers to give it a try. I really wanted to enjoy this one, but there were so many factors, for me, that just didn't allow me to fully enjoy this one or get engrossed into it.