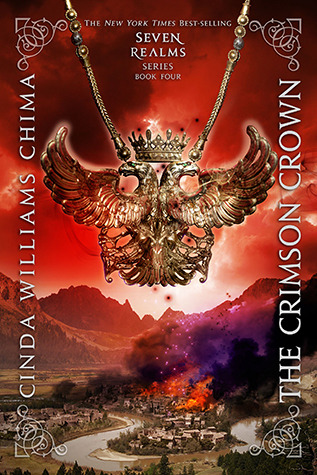 Title: The Crimson Crown
Series: Seven Realms, #4
Author: Cinda Williams Chima
Category: High-Fantasy/Romance
Genre: Young Adult
Rating: 5 stars out of 5
A thousand years ago, two young lovers were betrayed-Alger Waterlow to his death, and Hanalea, Queen of the Fells, to a life without love.





Now, once again, the Queendom of the Fells seems likely to shatter apart. For young queen Raisa ana'Marianna, maintaining peace even within her own castle walls is nearly impossible; tension between wizards and Clan has reached a fevered pitch. With surrounding kingdoms seeking to prey on the Fells' inner turmoil, Raisa's best hope is to unite her people against a common enemy. But that enemy might be the person with whom she's falling in love.





Through a complicated web of lies and unholy alliances, former streetlord Han Alister has become a member of the Wizard Council of the Fells. Navigating the cut-throat world of blue blood politics has never been more dangerous, and Han seems to inspire hostility among Clan and wizards alike. His only ally is the queen, and despite the perils involved, Han finds it impossible to ignore his feelings for Raisa. Before long, Han finds himself in possession of a secret believed to be lost to history, a discovery powerful enough to unite the people of the Fells. But will the secret die with him before he can use it?





A simple, devastating truth concealed by a thousand-year-old lie at last comes to light in this stunning conclusion to the Seven Realms series.




What a wonderful, incredible, and breathtaking conclusion to a series I absolutely loved. The Crimson Crown was action-packed, completely riveting, heart-stopping, and stunning. And realizing that this was the last book of the series really brings a tear to my eye because I came to love this world that Chima created and the characters held within.
"His aster-blue eyes shown out from a face blackened by bruises and soot, his fair hair glittering in the firelight. Dressed all in black, silhouetted against flame, he looked rather like a demon, raised from the dead, trading for souls on the other side."
The story-line was as action-packed as the other books, with toe-curling tension, and dangerous political games around every corner. But now both Raisa and Han are even deeper into the political twist and pull of the magic counsel and the other varies groups that surround the throne. Every scene built at such a lovely pace, and yes, it built a bit slow (like nearly every high-fantasy read). I, however, could not get enough of it. It took time for things to unravel, for secrets that had been hidden for over a thousand years to be revealed, and for true trust to be gained, but when it did, it pulled me even more into the story.
Raisa and Han have both been on a whirlwind of an adventure, both separately and together. I've watched them grow, discovery themselves, fight their attraction, find trust in each other, ultimately come together, discover secrets, unravel plots, and then find happiness. The growth they have experience is by far my favorite aspect of the entire series and something I couldn't get enough of. I loved where they were at the end of the book and who they became.
The plot does throw quite a few twists and turns at you, and some really took me by surprise. Though I did figure out a few of the twists, the book was completely engrossing. I came to love so many characters in the book and loved that I was able to get a glimpse of all of them.
The ending was absolutely beautiful and very much deserved for all the characters. The building of the world was deep and the culture, the people, the land that Chima created diverse, realistic, and beautifully detailed.
"But I don't want your throne."

"Then what do you want?"

"You."
The Crimson Crown
was an amazing journey of a read. Watching Han and Raisa fight, struggle, love, overcome every obstacle they faced, and then find their happy ending, well, it was magnificent. I loved this book, I loved this series. I felt it was a perfect ending to a wonderful story.