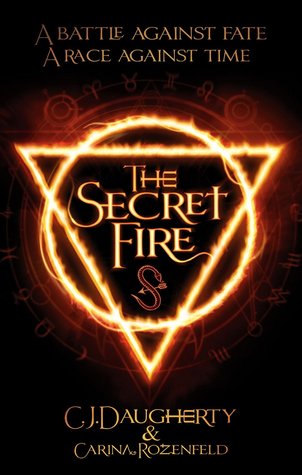 Title: The Secret Fire
Series: The Alchemist Chronicles, #1
Author: C.J. Daugherty & Carina Rozenfeld
Category: Paranormal/Sci-Fi
Genre: Young Adult
Rating: 4 stars out of 5
*Book recieved via NetGalley in exchange for a fair and honest review*
French teen Sacha Winters can't die. He can throw himself off a roof, be stabbed, even shot, and he will always survive. Until the day when history and ancient enmities dictate that he must die. Worse still, his death will trigger something awful. Something deadly. And that day is closing in.





Taylor Montclair is a normal English girl, hanging out with her friends and studying for exams, until she starts shorting out the lights with her brain. She's also the only person on earth who can save Sacha.





There's only one problem: the two of them have never met. They live hundreds of miles apart and powerful forces will stop at nothing to keep them apart.





They have eight weeks to find each other.





Will they survive long enough to save the world?




I've been meaning to read The Secret Fire for quite a while now, but actually forgotten that I had an ARC of it. I'm so glad I remembered I had this one because it was a really good read.
Each time he died, it got harder. Each time it hurt more.
The setting is what made me truly love this book (other than the very interesting and unique plot elements). Daugherty, who is from England, and Rozenfeld, who is from France, really integrated their own unique culture within the book. I loved that. I loved feeling and experiencing another country. The scenery felt vivid and very much real.
Though the formatting is a bit different.
The book opened suspenseful and intriguingly. Pulling me in and capturing my full attention. Once I started it I couldn't put it down. First I met Sacha, a young man from France with a very unique ability. He can't die. Literally. He can survive being shot in the head, a jump from a five story building, and being stabbed. It is, however, a very dark ability. And I felt Sacha expressed that quite well. His life is governed by something beyond his control. The way he acted and the way he viewed things really put into perspective just how sad his situation is. I couldn't help but feel for him. The mystery of why he can't die really pulled me in. I wanted to uncover that secret and be there as he unraveled even more secrets.
Taylor is the complete opposite of Sacha, a girl from England whose life has been extremely normal. She's the sun to Sacha's moon. Light to his dark. But her life slowly and then sudden intertwines with his. They then both uncover secrets that connect them in way that goes beyond anything they could imagine.
Taylor is sweet and shy were as Sacha is more reckless and prickly. I enjoyed their different personalities, but loved how they connected. Getting their own perspectives also helped in understanding their characters. I loved seeing from their own eyes. Their relationship does evolve at a quick pace, but I truly felt their connection and then their growing emotions for each other. Their first meeting was so sweet, I couldn't help but smile at the way they were.
She couldn't explain it. But something about Sacha made her stronger.
The book has an underling, gripping and dark atmosphere filled with ancient curses, magic, and forces that are beyond this world. I couldn't get enough of that. I loved how Sacha and Taylor were connected and the mysteries that surrounded them. I felt things did develop well, though the middle did feel like it dragged a bit. Other than that, the pacing through the rest of the book flowed nicely. The setting was very rich and the details of both England and France well written. Though there wasn't a lot of character growth, the growth that was seen in Sacha and Taylor was developed well and I can't wait to see their continued growth.
The Secret Fire was a uniquely dark, interesting, and wonderful read. The ending left me satisfied but also wanting more. I can't wait for the next book.