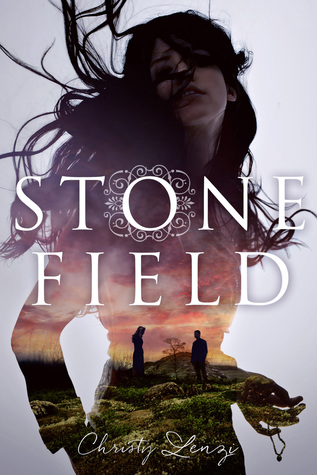 Title: Stone Field
Author: Christy Lenzi
Category: Romance/ Historical Fiction
Genre: Mature YA
Rating: DNF
*ARC was provided via NetGalley in exchange for a fair and honest review*
In a small town on the brink of the Civil War, Catrina finds a man making strange patterns in her family's sorghum crop. He's mad with fever, naked, and strikingly beautiful. He has no memory of who he is or what he's done before Catrina found him in Stone Field. But that doesn't bother Catrina because she doesn't like thinking about the things she's done before either.





Catrina and Stonefield fall passionately, dangerously, in love. All they want is to live with each other, in harmony with the land and away from Cat's protective brother, the new fanatical preacher, and the neighbors who are scandalized by their relationship. But Stonefield can't escape the truth about who he is, and the conflict tearing apart the country demands that everyone take a side before the bloodbath reaches their doorstep.





Inspired by Emily Bronte's Wuthering Heights, Stone Field is a passionate and atmospheric story of how violence and vengeance pervert the human spirit, and how hatred can be transcended by love.




My Review
Oh, how I really wanted to enjoy this one and I honestly did try. It sounded like a book I would really enjoy. I mean, it's supposed to be a loosely based retelling of Wuthering Heights, but there were just a few things that made me not fall for this one, made me not even able to finish it.
First, the main reason why I couldn't get lost in this one is because of the romance aspect of the book. It starts off nearly instantly in the beginning, feeling rushed and a bit forced. From the moment Catrina and Stonefield laid eyes on each other it was an instant connection. However, that connection grew and nurtured too fast to leave the feeling that the love between them was real. For me, it felt pushed and forced for the sack of a tale of two star-crossed lovers.
Secondly, Cat's thoughts and thought process was a bit too chaotic and wild for me to connect with her. I did, however, understand that she held a darkness, a sadness, a loneliness, within. But I felt that that was overdone, perhaps, like the author was trying too hard to have Cat feel like a confused and lost individual. Then there is Stonefield. He too felt odd and out of place for me. The instant connection between them and his behavior unbelievable. That also goes for the romance between them and their fast growing emotions for each other. I tried to push myself to finish this one, but after a few chapters in, I grew a bit bored and the romance felt too forced. I just couldn't get past that.
I did, however, love Lenzi's writing. It did flow beautiful like prose from poems. Swiping me away into this world she created.
I honestly couldn't get into this one for my own personal reasons. I do, however, really encourage others to pick this one up if it sounds like a book they would love!