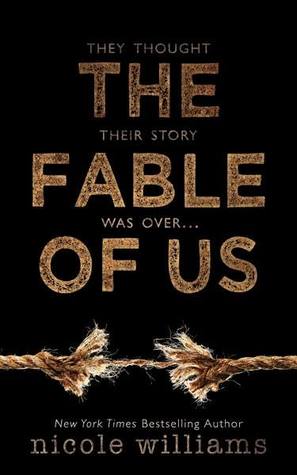 Title: The Fable of Us
Author: Nicole Williams
Category: Contemporary Romance
Genre: New Adult
Rating: 3.5/4 stars out of 5
Her heart can't be destroyed by the same person twice. At least that's what Clara Abbot finds herself hoping when she runs into Boone Cavanaugh less than an hour after returning to Charleston.





As kids, Clara and Boone had been each other's firsts, and no one or nothing could stand in the way of their forever. But all kids have to grow up sometime. The troubled son of the town drunk winding up with the firstborn daughter of the local royalty was a happy ending even the most imaginative of fairy tales couldn't make believable.





Their fable came to an end as most do: tragically. Boone might have done the leaving, but it was Clara who got away and made a new life for herself in California. But after seven years of dodging her hometown, she's only back in Charleston for seven days to celebrate her sister's wedding. She won't let her overbearing family or her run-in with Boone rattle her—though rattling her is obviously Boone's primary objective.





Boone is her past and her past is behind her, a mere speck in the rearview. So why does she feel it coming back every time she looks at him? Why does she see it every time he looks back?





Just when Clara's life can't possibly get more complicated, the ground shifts, and she discovers just how far her family was willing to go to keep the wrong boy out of her life. Was it really Boone who left her? Or was it Clara who left him?





The truth will be hard to face. Especially when she discovers most of her life has been built on lies.




My Review

The Fable of Us was such a sweet sweet book. A tale of two souls bound together, and no matter the hardships and obstacles they faced, even the years apart, love has a way of finding them and binding them together. Forever.
"It doesn't seem to matter how far away I go or how many years go by. I'm starting to accept that there will always be some part of me that is going to hold on to some part of you."
Boone is a character you can't help but gush over and Clara, such a strong individual. I couldn't get enough of their dynamics at all. Each one grew up completely different, each facing their own hardships and trials. And the chemistry between them is extremely hot and very intense. Boone is such a sweet guy. I fell for him instantly and he melted my heart in so many times. He took his troubled background and made something really amazing out of it, though it didn't always work out. I just fell for him so hard. Then there is Clara, who is a strong individual in her right. I had to admire her so much for what she overcame and how she handled things.
Boone and Clara haven't spoken or interacted with each in years, but then with a chance meeting and a desperate deal, these two -- with a very deep history -- find themselves repeating a path they were on years before. Uncovering their history was quite an experience and I loved unraveling it. It was both endearing and so very heartbreaking.
Boone and Clara really have dealt with a lot and overcome quite a bit, though not in the same way. The chemistry between them cannot be denied and I loved watching them try to fight it and then eventually give in. Though they had a lot of overcome from their past, it was such a wonderful journey watching them finally get over the past, forgive each other, find the truth, and find each other once again. They each had their own faults, but they were able to find their strength in each other. And that was just beautiful.
The book does pick up quite quickly into the thick of the story, and it did thrust me into the plot without knowing what had happened between Boone and Clara. But uncovering what did was thrilling. Though I did figure out what happened to them, it still broke my heart. The character growth was by far my favorite aspect of the book as well as how dynamic the characters were. I did wish I got more of their backstory, more of their past. But I felt the story followed so nicely and everything developed at a beautiful pace. I connected with Boone and Clara and I honestly fall in love with them. Nicole did an amazing job telling their story.
"The fable of us had been rewritten. With a spin that had exposed the truth. Instead of the happily never after we'd been dealt or with the happily ever after that was a lie, we were retelling the ending. Boone and Clara—happily even after. It was a great story. The greatest one I'd ever heard."
The Fable of Us was a wonderful story and I high recommend it to New Adult lovers and fans of Nicole Williams.