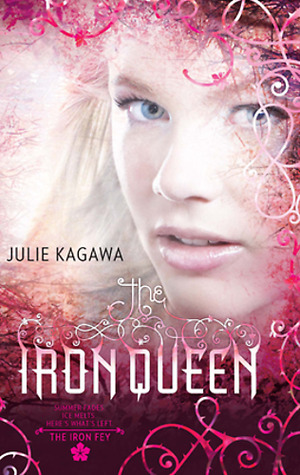 Title: The Iron Queen
Series: The Iron Fey, #3
Author: Julie Kagawa
Category: Fantasy/Romance
Genre: Young Adult
Rating: 4 stars out of 5
The New York Times Bestseller


My name is Meghan Chase.





I thought it was over. That my time with the fey, the impossible choices I had to make, the sacrifices of those I loved, was behind me. But a storm is approaching, an army of Iron fey that will drag me back, kicking and screaming. Drag me away from the banished prince who's sworn to stand by my side. Drag me into the core of conflict so powerful, I'm not sure anyone can survive it.





This time, there will be no turning back.




My Review
The Iron Queen is by far my favorite book out of the series. But that ending left me craving for the next book (which I just found out is in Ash's POV). Like the rest of Kagawa's series, this book captivated me, swept me away, and immersed me in a world I thoroughly loved. The creatures, the imaginative world, the characters, all beautifully detailed and created.
"You enjoy making my heart stop, don't you?"
Meghan has really developed throughout the series. She is still a force to be reckoned with and she always puts those she cares about before her own needs and wants. And that is something you can't help but admire in characters. Meghan was definitely tested in this installment and I was proud of how she overcame the obstacles and handled each situation, even if the outcome wasn't what she desired. I also felt like she stepped up more in her role as both fey and human. She also seemed braver and more steadfast.
And my gosh, my love for Ash grows with each book. Finally we get even more into his character and delve into who he is in this book. I loved seeing his dynamic, his real self. He doesn't hide his emotions and I just loved that. Him being so open with his love for Meghan, his determination to save the Fey world and protect Meghan made me just admire and love him to pieces.
Ash and Meghan have really come a long ways from the first book. I could really feel their growth both separately and together, and the dynamic of their relationship, both physical and emotional -- though they do still have a bit more of growing to do. Their relationship definitely has developed from mere crushes of beating hearts and blushes to more of a physical aspect. And I loved that. I loved that their relationship is now on the adult side. And the chemistry is of that same aspect. Though they did struggle with a few things, their pull was something I couldn't get enough of.
The book is filled with nonstop action and so many wonderful characters. I adore so many of the side characters. Puck and Grimalkin are by far my two favorite; they had me giggling quite a bit throughout the book. I couldn't get enough of them. The action, like the other books, is fast paced. I enjoy that though, like the other books, I still feel that the transitions of scenes and actions are a bit too rushed, but I enjoyed the book and story nonetheless. The growth of the characters felt very real and were well done and as well as the advancing of the plot and storyline. The world in this series is something I just can't get enough of.
"This is war, human." Mab's voice was cold and remorseless. "It is either kill or be destroyed ourselves."
The Iron Queen is a wonderful installment in this series with heart stopping action, beautiful development of the story and the characters, a heart melting romance and love, and a world that just sucks you in. Plus, with that ending that had my heart left in my throat, I need to next book.