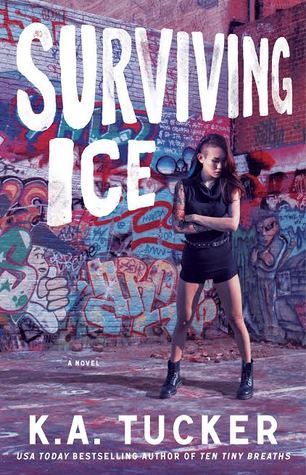 Title: Surviving Ice
Series: Burying Water, #4
Author: K.A. Tucker
Category: Contemporary Romance
Genre: New Adult
Rating: 5 stars out of 5
*Book received in exchange for a fair and honest review*
The USA TODAY bestselling author of the Ten Tiny Breaths series and Burying Water—which Kirkus Reviews called "a sexy, romantic, gangster-tinged page-turner"—returns with a new novel packed with romance, plot twists, and psychological suspense.



Ivy, a talented tattoo artist who spent the early part of her twenties on the move, is finally looking for a place to call home. She thinks she might have found it in San Francisco, but all that changes when she witnesses a terrible crime. She's ready to pack up her things yet again, when a random encounter with a stranger keeps her in the city, giving her reason to stay after all.





That is, until Ivy discovers that their encounter wasn't random. Not at all…




My Review
My gosh how I just loved Ivy and Sebastian. Those two really delivered a story that was both compelling, sexy, intense, and just plain sweet. Finally getting inside Ivy's head was a treat I just loved and Sebastian, who fits Ivy so perfectly, had my heart beating non-stop.
How has he not figured out that everything has changed for me, and it's all because of him?
This series has been a wonder to read. Each one I have enjoyed, but I think this one and Chasing River are by far my favorite books in the series. It's the characters of each book that really make the stories. Each one a unique and interesting individual and Ivy was no different. I really enjoyed her spunky attitude and loved her sarcastic nature. However, there really is much more to her than that. I loved seeing that she had such a vulnerable side. Getting such an in-depth view of her really made me love her even more.
And then there is Sebastian. What I loved about him is that he is kind of the opposite of Ivy. More of a stoic character, fierce, and very serious. But they are the same in some sense as well. I loved that he really shook Ivy's world, he challenged her and made her feel things she hadn't really felt before.
The growth in both characters was one factor I simply loved in the book. Each one finding something in each other that they needed and also discovered quite a bit about themselves. How they get tangled up in each other's lives, now that was a fun thing to watch. It was both intense and enjoyable. Watching how that it all played out was wonderfully written and I was happy with where they were at the end of the book. And I have to talk about their chemistry! Sebastian and Ivy really had an instant and intense connection. I really felt the pull between them and I loved watching them together.
People so rarely surprise me anymore, but I have a feeling she might.
The book flowed beautifully and I loved how the story unfolded altogether. The character growth was well paced as well and developed to my liking. The dynamic between Sebastian and Ivy was a great contrast in the story. The ending was so sweet and I felt the series wrapped up so nicely.
All in all, Surviving Ice is definitely my second favorite in the series and a beautiful conclusion to this series.