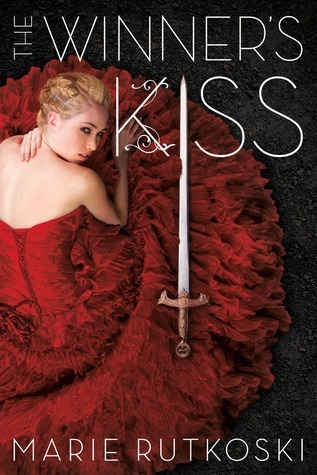 Title: The Winner's Kiss
Series: The Winner's Trilogy, #3
Author: Marie Rutkoski
Category: Fantasy/ Romance
Genre:Young Adult
Rating: 5 stars out of 5
War has begun. Arin is in the thick of it with untrustworthy new allies and the empire as his enemy. Though he has convinced himself that he no longer loves Kestrel, Arin hasn't forgotten her, or how she became exactly the kind of person he has always despised. She cared more for the empire than she did for the lives of innocent people—and certainly more than she did for him.





At least, that's what he thinks.





In the frozen north, Kestrel is a prisoner in a brutal work camp. As she searches desperately for a way to escape, she wishes Arin could know what she sacrificed for him. She wishes she could make the empire pay for what they've done to her.





But no one gets what they want just by wishing.





As the war intensifies, both Kestrel and Arin discover that the world is changing. The East is pitted against the West, and they are caught in between. With so much to lose, can anybody really win?




My Review
I LOVED LOVED LOVED LOVED LOVED this book so hard I can't even. I felt that Rutkoski did an absolutely fabulous job at wrapping up this amazing and brilliant series. She delivered it all: action intense and non-stop, romance that made me melt, political schemes that had me holding my breath and twists that I just couldn't get enough of. Her writing is beyond magical, pulling me in and making me live her world with her characters. And her characters are each so well developed and so dynamic they jumped off the page, each unique and very real.
"He didn't smile. He cupped her face with both hands. An emotion tugged at his expression, a dark awe, the kind saved for a wild storm that rends the sky but doesn't ravage your existence, doesn't destroy every thing you love. The one that lets you feel saved."
I fall hard for Kestrel and Arin (and BEYOND happy with their journey, their growth, and where they ended up), both brilliantly written, smart, and also flawed, but that's what made me cherish and love them even more. Both truly struggled in this one. They both finally faced the past that held them back and were brave enough to look into the future without fear. Their pull and attraction, their growth romantically was so breathtakingly done. Their attraction started out as sweet and tender, but in this one you can feel that it has also grown into a more mature nature. Of course I was so happy about that and loved it. I just love Kestrel and Arin so much and how they overcame everything that was thrown their way.
The book was so beautiful told. Intricate in the plot, the development of the characters and the diversity of the world. I loved that the characters struggled and didn't always make the best decision -- it made them feel more real -- and that not all of their plans worked out. The twists in the book had me on the edge of my seat, glued to the words in the book. I really couldn't believe how everything unfold, in the best way possible.
"He hadn't been blessed by the god of death.

Arin was the god."
Rutkoski's writing is, without a doubt, exceptional. Her words flow off the page like magic and dip deep into my blood, immersing me into her world. I lived in that world with her characters. I struggled, fought, strived, failed,

rejoiced

, cried, and hoped with them. The pacing was, like the other books, well done. Though some might find it lagging in spots, I thoroughly enjoyed the more slower moments. It really helped develop the characters and the story. I loved some of the side characters and some, well, they got what they deserved.
All in all, a wonderful, powerful, moving, and brilliant conclusion to a series I will love forever!