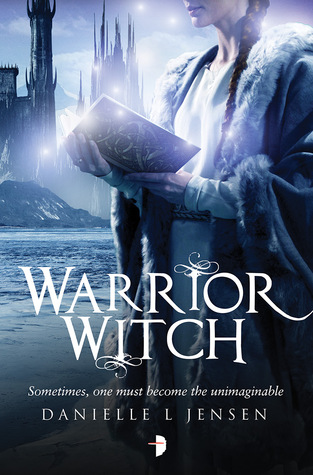 Title: Warrior Witch
Series: The Malediction Trilogy #3
Author: Danielle L. Jensen
Category:
Fantasy/ Romance
Genre: Young Adult
Rating: 5 stars out of 5
Publication Date: May 3rd 2016
*ARC was received in exchange for a fair and honest review*
The thrilling conclusion to the breakout Malediction Trilogy by Goodreads Choice finalist Danielle L. Jensen.





Cécile and Tristan have accomplished the impossible, but their greatest challenge remains: defeating the evil they have unleashed upon the world.





As they scramble for a way to protect the people of the Isle and liberate the trolls from their tyrant king, Cécile and Tristan must battle those who'd see them dead. To win, they will risk everything. And everyone.





But it might not be enough. Both Cécile and Tristan have debts, and they will be forced to pay them at a cost far greater than they had ever imagined.




My Review
Warrior Witch, this entire series, has been a beautiful tale that I have fallen so in love with. In love with the characters, the world, and the brilliant way Jensen told her story. To see it finally wrapped up, to read the ending of Tristan and Cecile's story, my heart breaks but a beautiful lingering sweetness and happiness remains.
Catching her hand with mine, I held it to my chest. There were things I should've said, explanations and justifications. Words to make her understand that in a perfect world, I'd never consider asking her for this. That in a perfect world, she would always come first, and I'd spend every waking moment proving it to her. But ours was an imperfect world. Flawed and cruel.
The characters have developed so tremendously throughout the entire series. Though both Tristan and Cecile still have their flaws I can see and feel the transitions that they have gone through. Cecile is still that determined young woman I met at the beginning of the series. Though not all of her decisions have turned out brilliant, her will to do what is right has always drawn me to her. Her overcoming the fear and hatred for the trolls that aren't bad (and Tristan), proves just how much she grew. Combine that with her love for those she keeps close to her heart, and the love she has for Tristan makes her a formidable character.
Tristan is by far the one who has developed most in the series. From that first meeting that left me confused as to what his motive was to the last chapter where I knew I would always love his character, Tristan has been such a dynamic character. He puts everyone before himself. And that gives you a glimpse into his selfless nature, which you can't help but fall in love with. Though, at times, he might come off as cold and calculating, he is brilliant and full of love.
I really can't talk about the book without giving anything away. All I can say is, please, read this series. It's addicting and so very consuming. The world that Jensen created is so vivid and detailed; the magic woven so well within the words of the pages. The romance between Tristan and Cecile is beautiful and full of wonderful moments. The pacing was nonstop and intense. The buildup of the plot brilliantly laid out and twists I really didn't see coming. The side character jump off the pages, both the good and bad ones. There were moments that me rendered speechless, had my heart warming over, and had me on the verge of tears.
I stood on my tiptoes and kissed him hard, trying to keep my trepidation in check. "Please be careful."

"I love you," he said; then disappeared into the night.
Warrior Witch was an adventure of a story. Filled to the brim with action and intense pacing that had me gripping edges of my kindle, breath held, waiting for the next turn of events. My heart in my throat as to what would be the next steps for Tristan and Cecile to take. My heart in pieces as the ending unfolded, but held together with strings of bittersweet knowledge of their ending. And an ending that does echo in my heart in such a poignant way because I now know their story. Fought it along with Tristan and Cecile, struggled and rejoiced with them. And now that it has ended, I already miss them dearly.