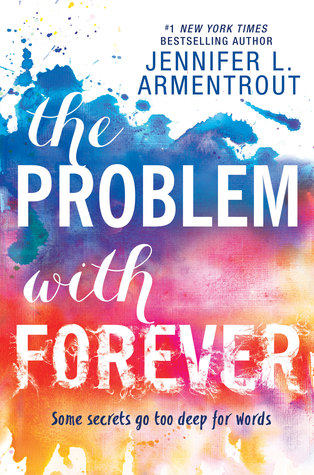 Title: The Problem with Forever
Author: Jennifer L. Armentrout
Category: Romance/ Contemporary
Genre: Young Adult
Rating: 5 stars out of 5
For some people, silence is a weapon. For Mallory "Mouse" Dodge, it's a shield. Growing up, she learned that the best way to survive was to say nothing. And even though it's been four years since her nightmare ended, she's beginning to worry that the fear that holds her back will last a lifetime.





Now, after years of homeschooling with loving adoptive parents, Mallory must face a new milestone—spending her senior year at public high school. But of all the terrifying and exhilarating scenarios she's imagined, there's one she never dreamed of—that she'd run into Rider Stark, the friend and protector she hasn't seen since childhood, on her very first day.





It doesn't take long for Mallory to realize that the connection she shared with Rider never really faded. Yet the deeper their bond grows, the more it becomes apparent that she's not the only one grappling with the lingering scars from the past. And as she watches Rider's life spiral out of control, Mallory faces a choice between staying silent and speaking out—for the people she loves, the life she wants, and the truths that need to be heard.




My Review
This book was absolutely beautiful. Actually, it was beyond beautiful because within its pages echoed a story that broke my heart, mended my heart, left me breathless, and left me peacefully happy.
"I'd been given opportunities others hadn't and I've been wasting them, and now I have to really wonder if it is too late." "It's not," I whispered, truly believing it."
In the last few months, yes months, I have been in a horrible and never-ending book rut. Nothing I pick up lately has held my attention, nothing at all. And I have tried, oh I have tried. Then, then I finally decided I NEEDED to pick up The Problem with Forever. I needed to see if I could get more than a few chapters into a book. I'm so thoroughly happy that I did because when it comes to JLA, suddenly I'm once again lost in a story. Flying through the pages, consuming the words, devouring the sentences and lost, thoroughly, irrevocably lost. Happily. Blissfully.
The Problem with Forever was a book that touched on such personal notes, personal elements I know that had to be hard on the author herself, and I cannot thank her enough for delivering it in such a beautifully, raw, and real way. I felt the characters, I felt their stories, and I knew their stories because parts of it also echoed within me. My chest pinged, my heart stuttered, tears flowed. But I smiled; my chest warmed, and when I closed the book I was so, so blissfully and peacefully happy.
Jennifer captured the realness of the characters. Every facet, every fraction, every little piece. Mallory, through her thoughts alone, became a character I loved and a character I wanted to see overcome every obstacle. I saw myself in her. Washed through her emotions, the way she overthought every little detail. But I admired her determination to push forward and past the demons that haunted her. Rider, who swept into my heart with a brilliant hue, captured my heart (and of course) my love. I also saw pieces of myself in him as well. The fear to step from the confines of safety to be truly seen, to truly feel, to put yourself in the hands of others. But he, too, like Mallory pushed forward (though it took a bit more for him to take that step), but nonetheless he did. And I couldn't be prouder than I am for these two wonderfully crafted characters.
Jennifer filled her world with real characters, with real brutal reality. The light and the dark. Sown together with threads of detailed words that leaped off the pages and filled my vision until I didn't want to escape. I adored that Jennifer put such a harsh realness and I appalled her for giving that realness to her readers. Though the story is sweet and lovely, there is that underlining brutality of the dark side of life. She let the book flow at a pace that kept me wanting more, she built the story up till I felt my heart would trip out of my chest, and she created and developed characters that wiggled so deeply into my heart.
"None of this was forever. But trying was. Living was."
The Problem with Forever
isn't a pretty book. No, it's a beautiful story. Wrapped in bows of brutal realness, but held together with tape of patience, of love, of the underlining strength of having a second chance. To say I loved this book is clearly an understatement.